The Day School at New England Pediatric Care
A Welcoming Community for Special Students
For over 25 years, the Day School at New England Pediatric Care has operated as a Chapter 766 Approved Private Special Education School. Our goal is to provide appropriate, meaningful, special education services to severely challenged learners with medically complex needs.  We provide unique individualized programming in each of our K-12 classrooms through an innovative sensory based approach to learning.  We align and adapt our curriculum with Massachusetts Common Core Standards, and provide our students with opportunities to access their skills throughout the entire school day.   Students enrolled in our Day School program have continuous small group instruction and daily opportunities to participate in various fun and exciting school based activities that are developmentally and socially appropriate.
Our NEPC Team Approach
The team approach is the strength of the NEPC Day School. Our certified educators and therapists provide on-going consultation, and we utilize an integrative therapy approach to collaborate with all departmental specialties in addressing student needs and goals consistently. NEPC 's medical staff are trained to meet the needs of children who require medical intervention for seizures, IV medicine, G-tube feedings and other medical situations throughout the school day.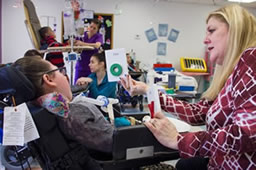 Day School Facts
Provides education for children ages 3-22 with complex medical needs
3 full time School Nurses ; CNA certified Teachers Assistants
 An integrative therapeutic approach in each classroom
12-month school year, 5 days week, 251 days a year
Comprehensive therapy services offered within Education Component
Curriculum
Educators focus on developing and strengthening communication skills, addressing individual educational goals through a multi- sensory based teaching model. Academics include access to Massachusetts Common Core Standards and include math, science, language arts, history, art and music.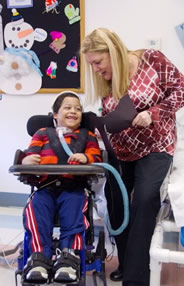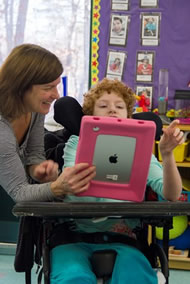 Photos by Nicole Dahlmer
Classroom Model 
All of our classrooms are well equipped with a full array of assistive technology devices to assist and enrich students access to curriculum as well as various adaptive equipment to meet orthopedic needs. Our integrated therapy model allows our team of licensed Physical, Occupational and Speech therapists see our students daily and adapt programs to their diverse needs.  In addition, our therapy services provide many school based therapeutic activities which include weekly Sensory Motor Group facilitated by NEPC therapists as well as weekly visits to our Snoozelen Sensory Stimulation room as well as our daily aquatics program.  For any questions related to our Day School, including enrollment into the Day School please email our Director, Amy Gagnon. 
Day School Documents and Resources  
Massachusetts Department of Elementary and Secondary Education