SKILLED NURSING Exceptional Care for Complex Medical Needs
NEPC's nursing department delivers comprehensive care with compassion. Our dedicated and experienced staff understands how to care for children and young adults who are medically complex and fragile. Nurses take the time to know each child as an individual.  This is important since many of our patients are non-verbal, non-ambulatory and/or have severe cognitive disabilities. Each nurse is equipped to deal with a wide range of medical challenges.
Nursing Specialties:
Respiratory interventions
Ventilator management
Tracheostomy care
Chest physiotherapy
Suctioning
Seizure disorders
IV therapy
Botox and phenol muscle blocks
Intrathecal baclofen pump maintenance
Special dietary needs

Ketogenic diets
Gastrostomy and jejunostomy feedings
Complex oral feeding issues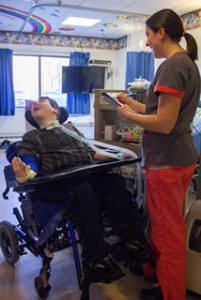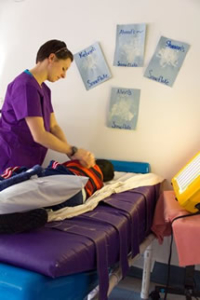 Affiliation with Tufts Floating Hospital
Our relationship with the talented staff of The Floating Hospital for Children gives our residents the benefit of cutting edge technology and state of the art medical care. When a new case is brought forward that introduces a new diagnosis to the team, our affiliation with The Floating Hospital ensures that our nurses understand the treatment plan and are trained to meet the child's needs.  NEPC also admits patients from Children's Hospital Medical Center, Mass. General Hospital, Boston Medical Center , UMass Memorial Hospital along with several community hospitals and we have very positive relationships with all. Long-Term as well as Short-term admissions can also be from home.
Day School Assistance
Our nursing care team is on hand to respond to changes in the residents care during the school day, and collaborates with education staff to ensure that their medical plan is followed during school hours. We have a staff of well trained, skilled school nurses available throughout the school day to attend to the medical needs of students in the classroom setting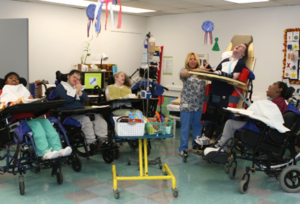 Compassionate, High Quality Care
Compassion and caring are always a top priority at NEPC, and our staff is acutely aware of the need to create the highest quality of life possible for the children in our care. Nurses advocate for the whole child and their family, and provide care that is individualized to each child's unique needs. Families are regarded as an integral part of the clinical team, and are informed about changes in their child's clinical status and consulted about medical treatment.