REHABILITATION Comprehensive Physical and Occupational Therapy Programs
The Rehabilitation Department at NEPC offers a full range of services including occupational therapy (OT), physical therapy (PT), speech-language pathology and therapeutic recreation. The general goal of rehabilitation services is to promote or maintain the maximum level of function, comfort, and overall well-being of each resident and day school student.
A Team Approach
The Rehabilitation (Rehab) services team works in collaboration with other departments to facilitate an interdisciplinary approach to care. The Rehab department believes that a team approach to care is critical to insure continuity of care and quality of life for all residents and day students.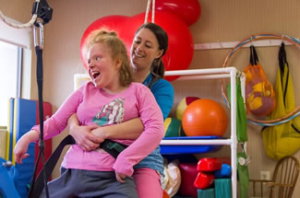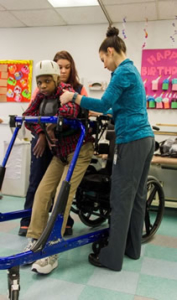 Photographs by Nicole Dahlmer
Therapeutic Programs 
Occupational therapy, Physical Therapy and Speech Language Pathology services are provided through a direct and/or consultative service delivery model. Consultative services are provided within the day school and young adult programs, and on the nursing units.
Occupational therapy and physical therapy services work closely with a physiatrist, orthotist and durable medical equipment suppliers to ensure that the equipment, mobility and positioning needs of the residents are met.
Speech language pathology is scheduled on a one to one basis to do assessments, develop communication systems, and consult with the classroom teachers as well as all members of the child's team.
Services for Residents
Passive range of motion activities are a part of resident's daily care, and are incorporated into their routines seven days per week.
Integration with Day School Activities
NEPC's medical and educational staff collaborates with the Rehabilitation staff so that residents' activities incorporate rehab goals throughout their day. OT and PT services are available to all residents and day students in accordance with Individual Educational Plans ( IEP ). Each child's individual plan is designed to be implemented in collaboration with classroom teachers to promote carryover of set goals and objectives. In the classroom, for instance, teachers monitor and/or apply orthopedic equipment as needed to ensure consistent and continuing benefits for each child.