SOCIAL SERVICES Ensuring Exceptional, High Quality Care
When a referring hospital or family makes an inquiry about care at NEPC, the first point of contact is our Licensed Certified Social Worker (LCSW).  NEPC is prepared to admit children seven days a week, day or night, year round.  The process starts with a phone call from the family, doctor or hospital.
Families are encouraged to visit our facility, if they have not toured before.  We want them to meet with our staff, who can help them complete their child's application.  Social Services will also help families with health insurance insurance matters so that cost is not a concern when placing a child.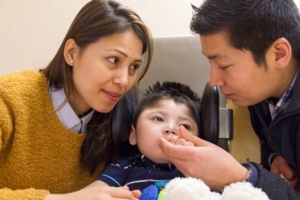 Photo by Nicole Dahlmer
NEPC understands that families struggle with many emotions when considering any kind of separation from their child, whether it's a hospitalization, or a long term, short term, or post hospitalization stay at our nursing facility.  Social Services will help them simplify the process by interfacing with the referring hospital, the Medical Review team, and insurance companies.
NEPC's goal is to make the families feel welcome and encourage them to be as involved as they want to be.  There are no visiting hours — family members can come in at any time, day or night. On a case by case basis, and dependent upon the child's needs, there are times when families can stay with their child 24 hours/day