SPECIALTY CLINICS Simplifying the Process of Pediatric Care
Our on-site Specialty Clinics address the unique and complex needs of both residents and day students. Since care takes place right at the facility, travel time to doctor appointments is reduced for both you and your child, and along with the discomforts that can accompany travel.  Not only are the clinics convenient, they are also cost effective and they promote an interdisciplinary approach to treatment because staff members are readily available to give input at clinic visits. Family/guardian involvement at the sessions is also encouraged.
Specialty clinics offered at NEPC include: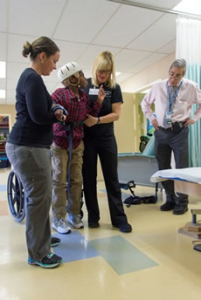 Rehabilitation Clinic
This is an interdisciplinary clinic coordinated by the Rehabilitation Director and conducted by Dr. Harry Webster, NEPC's Medical Director and a pediatric physiatrist based at The Floating Hospital for Children.  The goal of this clinic is to evaluate and determine treatment strategies to address issues related to overall care of individuals with severe neurological impairments. Issues include but are not limited to:
Management of spasticity
Contractures
Range of motion losses
Orthotic equipment needs
Functional mobility
Changes in general health status.
Physical therapy, occupational therapy and nursing representatives attend the clinic on a regular basis.  Participation in the clinic by families/guardian is always supported and encouraged, as well as any other integral members of the resident's team.
Treatments for Spasticity
The use of neuromuscular block procedures is a commonly used treatment for spasticity. The need for this procedure is determined through the Rehab clinic and blocks are performed on site by the physiatrist with nursing, OT and/or PT assisting.
Some residents use Intrathecal Baclofen pumps for systemic management of spasticity. These residents are routinely followed during Rehab clinic for pump refills and monitoring their response to the Intrathecal Baclofen.
Orthopedic Clinic
The Floating Hospital for Children provides orthopedic services at quarterly on-site clinics coordinated by the NEPC Physical Therapy supervisor. Residents are seen for evaluation of spine, hips or other musculoskeletal conditions as they relate to comfort, positioning, ease of care and function. Family/guardian involvement is encouraged.  Residents and day students must have parent/guardian approval in order to be seen by NEPC's consulting orthopedist.


photos by Nicole Dahlmer
Brace Clinic
Many NEPC residents and day students require the use of orthotic equipment to treat musculoskeletal deformities. The weekly on-site clinic addresses ongoing equipment needs. Physical therapy services and certified orthotists oversee fabrication, modification, repairs and orders for new equipment.
Wheelchair / Seating Clinic
The majority of NEPC residents and day students are dependent on customized wheelchairs for seating and mobility. As individuals grow or needs change, their chairs need modifications, replacement or repair for general wear and tear.
This clinic is held twice a month to ensure that residents (and day students as per family request) are safe, comfortable and well-positioned in their wheelchairs/mobility devices.
The clinic is coordinated by PT in conjunction with a Durable Medical Equipment (DME) Supplier with expertise in seating. Jointly, the therapist(s) and the DME seating specialist evaluate the resident/day student and determine the equipment needed to meet the individual's seating needs. Input from families and familiar staff is encouraged. The professionals who are primarily involved in this clinic have more than 30 years combined of seating experience and are credentialed as assistive technology practitioners.
Splinting
Occupational Therapy holds weekly sessions to fabricate, modify, and repair UE splints. Many residents and day students utilize hand/wrist splints to maintain alignment, prevent further deformity, and maintain skin integrity.
Optometry Clinic
The Occupational Therapy Department coordinates a quarterly Optometry Clinic.  Residents are seen for functional vision assessments, including dilation, by a consulting optometrist from Children's Hospital Boston.  In addition, eyeglass prescriptions, fittings, and deliveries can all be carried out through this on-site clinic.  Recommendations from the optometrist are carried over across all aspects of residents' daily routine, including nursing, education, and therapy.
Dental Clinic
The Dental Clinic is held at NEPC monthly with a Dentist and/or a Dental Hygienist and both can perform teeth cleanings. The Dentist will conduct a thorough evaluation of the residents' teeth and overall oral health on a regularly scheduled basis.  The Dentist is available to perform minor dental procedures at NEPC's clinic and will make referrals for more complicated oral procedures that need to be completed as an outpatient, either at a hospital of parent/reimbursement choice.
Sensory Motor Groups
Sensory motor groups are coordinated by PT and OT and held throughout the week so that each student has opportunities to experience a variety of sensory and motor activities.  Most residents and students are unable to initiate or perform such activities on their own due to the severity of their motor and cognitive skills.
Games such as bowling, baseball and ring toss are adapted so that students can actively take part. Students are often taken out of their wheelchairs and positioned with staff on various pieces of gym equipment (i.e. swings, therapy balls, air flow mats) to allow them to experience movement and a variety of positions and facilitate/reinforce their motor skills.